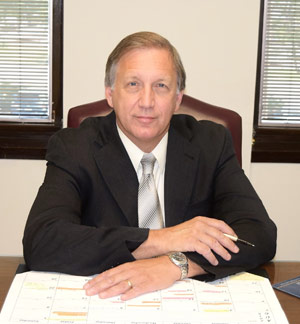 Robert D. Correale focuses his practice in the areas of civil litigation, estates, municipal court matters, family law and zoning/land use. He also handles residential and commercial real estate transactions. His clients include individuals, businesses and municipal entities.
Municipal Court/DWI/Motor Vehicle
Mr. Correale's experience in criminal and municipal court matters is varied. Among the types of cases he has handled on behalf of defendants are traffic matters, driving while intoxicated (DWI), driver license suspensions, game law violations, theft, assault, trespass, controlled dangerous substances (drugs), expungements and pre-charge investigations. Mr. Correale is a former Somerset County Assistant Prosecutor and was the Municipal Prosecutor for the Township of Jefferson from 1994 to 1998. In 2015, he was appointed as Special Municipal Prosecutor for the Township of Frelinghuysen. He has also served as the Alternate Municipal Prosecutor in four municipalities in Sussex County and as a Municipal Public Defender for five municipalities in Morris and Sussex Counties. In 2016, Mr. Correale was appointed Secretary of the Morris County Bar Association Municipal Court Committee.
Civil Litigation/Estate Administration
Mr. Correale is well versed in both estate administration and litigation, having appeared throughout the State. Mr. Correale's experience in civil litigation is also varied. In addition to his concentration on Consumer Fraud Act litigation, he has handled administrative law proceedings, appeals, claims by and against federal and state agencies, collection actions, commercial and residential tenancy actions, commercial litigation, condominium litigation, contract and lease disputes, corporate and partnership dissolutions, insurance fraud and indemnification, partition actions, personal injury actions, land use litigation, and title and land boundary disputes.
Zoning/Land Use
Mr. Correale's clients in the zoning/land use have included applicants, both individuals and business entities, municipal boards and objectors. Mr. Correale served as the Planning Board attorney in Jefferson Township from 2014 through 2019 . He also has rendered legal services to several other Boards and Authorities in Morris, Sussex and Warren Counties, such as the Morristown Board of Adjustment, Mt. Olive Township Planning Board, Franklin Borough Planning Board, Frelinghuysen Township Board of Adjustment, Sussex Borough Planning Board, Rockaway Borough Planning Board, Chester Township Board of Health, and the Mendham Township Board of Health.
Transactions
Mr. Correale has represented numerous individuals on residential real estate closings (purchase, sale and refinance). He also handles commercial real estate transactions, both leases and closings.
Family Law
Mr. Correale's experience in family matters is broad. Among the types of cases he has handled are divorces (pre- and post-judgment), child custody, D.C.P.P. (formerly D.Y.F.S.), domestic violence, summary support/custody, and prenuptial and mid-marriage agreements. Mr. Correale was also appointed by the Presiding Judge for Family Court for the Vicinage of Morris/Sussex Counties to serve as a member of the Morris County Early Settlement Panel for divorce matters.
Experience
| | |
| --- | --- |
| 2007-present | Brady & Correale, L.L.P. – Partner |
| 2003-2006 | Forster & Arbore – Senior Associate |
| 2000-2003 | Maynard & Truland, L.L.C. – Senior Trial Attorney |
| 1988-2000 | Kron & Correale – Partner |
| 1983-1988 | Cohen & Kron – Associate |
| 1981-1983 | Assistant Somerset County Prosecutor |
Other
Mr. Correale has served as an arbitrator on several personal injury matters, is the attorney for the Mt. Olive Township Ethical Standards Board (former Vice President), and had been appointed by the Supreme Court of the State of New Jersey as the Chairman for the District XB Ethics Committee (2019-2021). He is a "Fellow" in the Advocati Christi at St. Paul Inside the Walls.
He is a member of the American Bar Association, Morris County Bar Association, former member of Morris County Municipal Prosecutors Association, Association of Trial Lawyers of America, and is a PBA approved attorney.
Education
Ohio Northern University, Claude W. Pettit College of Law, J.D., 1981
College of New Jersey, B.S. 1977
Bar Admissions
New Jersey, 1981
United States District Court (NJ), 1981
United States Court of Appeals, Third Circuit, 1989
United States Supreme Court, 2015