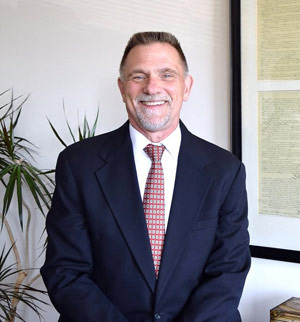 David Burton Brady focuses his practice in the areas of zoning/land use, civil/commercial litigation and residential and commercial transactions. His clients include individuals, businesses and municipal entities.
Zoning/Land Use
Mr. Brady's clients in the zoning/land use field have included municipal boards, applicants and objectors.
As counsel to various individual and corporate clients, Mr. Brady has appeared before numerous land use boards in Morris, Sussex, Warren, Somerset and Hunterdon Counties. The applications have included minor and major subdivisions, minor and major site plans and requests for dimensional and use variances.
Mr. Brady has represented Planning and Zoning Boards in Morris, Sussex and Warren Counties. These have included Boards in varied settings, including rural Frelinghuysen Township, Fredon Township, Green Township, Hampton Township and Wantage Township, the small towns of Sussex Borough, Franklin Borough and Rockaway Borough and the more populated Morristown. He currently represents seven Boards. He has also served as special counsel to Boards in litigated matters or special circumstances. His experience includes matters relating to redevelopment and rehabilitation zones.
Civil/Commercial Litigation
Mr. Brady's experience in civil litigation is broad. He has handled, on behalf of both Plaintiffs and Defendants, zoning matters, title and land boundary disputes, construction litigation, employment litigation, discrimination matters, contract and lease disputes, collection actions, claims by state or county agencies, corporate and partnership dissolutions, partition actions, personal injury actions, tenancy actions, nuisance claims, guardianships, estate disputes, injunctive claims, trespass actions, commission claims, fraud claims, injunctions and restrictive covenants and easements. He has handled matters in over a dozen New Jersey Counties, as well as Federal Court in New Jersey and Pennsylvania. He has also processed matters before arbitration and mediation boards, including the American Arbitration Association and FINRA. Mr. Brady has also overseen and coordinated litigation handled by other counsel. Mr. Brady has served as a Mediator and Arbitrator on several commercial disputes.
Mr. Brady has also served as an expert witness in connection with legal malpractice claims involving land title, construction, commercial transaction and zoning/land use matters.
Transactions
Mr. Brady represents individuals and companies in transaction matters. These include residential and non-residential real estate closings, residential and commercial leases and the sale or purchase of businesses.
Business Counsel
Mr. Brady advises business clients on the legal implication of business activities. This includes personnel matters, employment handbooks, drafting forms, compliance with statutory and regulatory requirements, contract negotiations and preparation, Department of Labor Issues, Department of Environmental Protection matters, unemployment matters, partnership and stockholder agreements, and other matters.
Experience
| | |
| --- | --- |
| 2007-present | Brady & Correale, L.L.P. – Partner |
| 2002-2006 | Brady & Nichay, L.L.P. – Partner |
| 2000-2002 | Henshaw, Brady & Nichay, L.L.P. – Partner |
| 1990-2000 | Henshaw & Brady – Partner |
| 1983-1990 | Ambrose, Henshaw & Brady – Partner |
| 1981-1983 | Ambrose, Monica & Henshaw – Associate |
Education
The Dickinson School of Law, J.D., 1981
Lafayette College, B.A. 1978
Bar Admissions
New Jersey, 1981
United States District Court (NJ) 1981